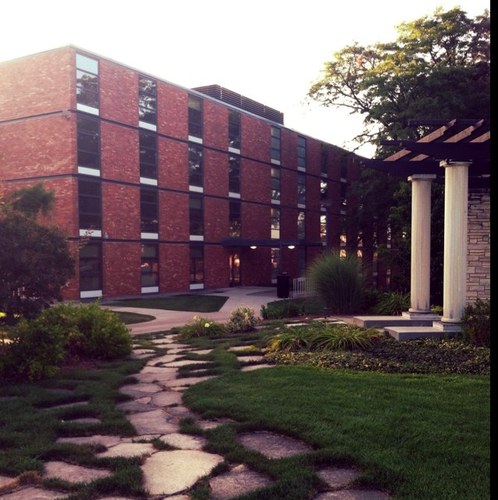 It is amazing to say that after four years, I'm (hopefully) graduating in less than two weeks. On August 23rd, 2017 I moved into Herriott Hall. It was the day before my 18th birthday, and I was excited to finally move into college. I chose Drake to have that college experience without getting overwhelmed by a huge campus. I chose the School of Journalism and Mass Communication because everyone was so darn friendly. Not only that but the program was accredited and covered actual client work. This is starting to sound like an ad though. The best part was that when COVID-19 stopped the entire world in its tracks, I felt supported by my program.
Before March 2020
I divide my time at Drake University into two chunks: Pre-COVID and Post-COVID. I haven't stepped foot in Meredith Hall since March 2020. I used to spend hours there, often until the early hours of the morning (my computer couldn't download Adobe). There were days when I would have three straight classes in Meredith and hang out there all day. You would know almost everyone with your major and when it came to campaign work, it genuinely felt like you were working in an agency. It was so easy to be emersed in your major and forget that there were students doing completely different things.
2018 Relays
Especially now as we wind down from the 2021 Drake Relays, I remember the pure chaos of campus during the 2018 Relays. It was my first one, I was too young for the Peggy's tent and too young to realize I didn't really like watching track. I spent most of the time waiting for the concert and enjoying all the new people on campus. It really made the campus come alive, there were alumni everywhere regaling you with stories of Drake in the past. It is truly an experience unique to Drake.
The Bitter End (Not Really)
Now as I come closer to May 15th, I can't help but feel a little robbed. I'm sure that I'm not the only one. Two and a half semesters of Zoom University was tiring and though all my professors were amazing, it still lacked the experience of in-person classes. As I say goodbye to Drake University, it is hard not to think of what could have been, what other memories could have been made. I am ecstatic to walk across the stage and receive my diploma but maybe I'm wishing I could have one more year, just for old times sake.